New Electronic Music: Parabola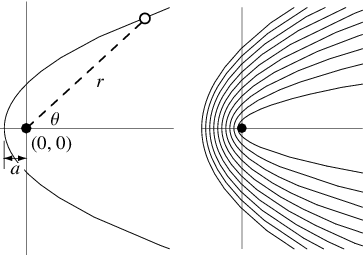 The second in my series of new electronic works:
Parabola
.
It is kind of half improvised, half composed in post-production. Some ideas I was thinking about while making it: stasis, many sounds heard as one sound, the continuum that exists between a pure tone and noise.
It's kind of similar to Evidence except the sound is pretty continuous, but there's a similar sort of juxtaposition between the beginning and the end of the piece. Also, the sound was made on synthesizer instead of on the computer and was much more improvisational.
Anyway, hope you enjoy:
Parabola
Parenthetical Girls/Dead Science tour
First, Parenthetical Girls are leaving tomorrow for a month long US tour with the Dead Science. Here's the dates:
Weds, Mar. 14th - Oakland -
21 Grand
Thurs, Mar. 15th - San Luis Obispo -
Steynberg Gallery
(w/
The Louvre
)
Fri, Mar. 16th - Inland Empire, CA - TBA?
Sat, Mar. 17th - Los Angeles, CA -
the Smell
(w/
This Song Is a Mess
,
Ancient Plague Mummy Massacre Incarnate Osiris
,
Daughters Tremaine
)
Mon, Mar. 19th - Phoenix -
Trunkspace
(w/Princess Lady Friend, Tent City, Flux Conquistador)
Weds, Mar. 21st - Oklahoma City, OK -
the Conservatory
Thurs, Mar. 22nd - Austin -
Mohawk
(w/
Weird Weeds
)
Fri, Mar. 23rd - Houston -
Super Happy Fun Land
Sat, Mar. 24th - Louisiana -
Dragon's Den
Sun, Mar. 25th - Little Rock -
The Treehouse
Mon, Mar. 26th - Chicago -
Abbey Pub
(w/
Home Recording Project
)
Tues, Mar. 27th - Grand Rapids, MI -
The DAAC
Weds, Mar. 28th - Detroit - Scrummage University
Thurs, Mar. 29th - Cleveland - Tower 2012
Fri, Mar. 30th - Rochester, NY - Bug Jar (w/Shapes and Sizes)
Sat, Mar. 31st - Troy, NY - RPI/Ground Zero
Mon, Apr. 2nd - Boston -
P.A.'s Lounge
Tues, April 3rd - Washington D.C. -
Warehouse Next Door
Weds, April 4th - Philadelphia -
Inciting HQ
Thurs, April 5th - NYC -
Cakeshop
(w/
Craig Wedren)
Fri, April 6th - NYC -
Uncle Paulie's
(w/
Creeping Nobodies
)
Shows after this are no longer w/The Dead Science
Sat, April 7th - Baltimore - TBA
Sun, April 8th - Cincinatti - Skull Lab
Mon, April 9th - Bloomington - TBA
Tues, April 10th - St. Louis - Lemp Arts
Wed, April 11th - Illinois - TBA
Fri, April 13th - Denver - Hi Dive
Sat, April 14th - UTAH - TBA
Sun, April 15th - Boise - VaC (w/Nom De Plume)